You're as Good as the Company You Keep
Our December Practice of the Month Shows Us the Lessons of Picking the Right Partners
Let's face it. There is a lot of noise in the optometric market with many, many companies touting their services. What's an optometrist to do?
It is the end of the year and a time when you look back and assess, "How did it go?" To find this answer for EyeCarePro, we look to our customers for that feedback, and this month's Practice of the Month, Dr. Don Knapp.
"I've been a customer of EyeCarePro since November of 2009," reported Dr. Knapp. "I've had several Account Managers over the years and they all have been very good, both in explaining what they were doing and in being interested in helping grow my practice. They were all also very nice people". (We only hire nice people...that's a rule)
Lesson 1: Choose a company that you want to stay with for the long haul. Interestingly, EyeCarePro requires no commitment and no contract. Practices stay (like Dr. Knapp has for 7 years) because they get the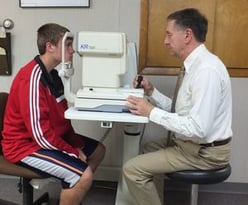 results they are looking for.
"Professionally, your company seems very competent", Dr. Knapp added. "My SEO results have been consistently good, despite MY less than stellar efforts to do certain things."
Lesson 2: DIY is only good for home repair. When it comes to your practice, trust an expert to do expert work – accounting, legal, equipment repair and marketing. Our team only works within eye care and so we know as much about optometry as we do about marketing.
"The website looks good and gets updated periodically, way more than if I had to do it myself. I am definitely pleased with the services I receive." said Dr. Knapp.
Lesson 3: Isn't that what it's all about?! Being happy with the results means you feel good about the choice of partner you've made.