This Father's Day could be about Getting Fathers Looking Great!
Father's Day (Sunday, June 18) is a great opportunity to connect with the men in your community
While women make most of the health care decisions for their families (true), men tend to make decisions about their own health, and boy do they need a push every now and then. This is a great opportunity to motivate the men in your community around looking great and seeing well.
Our FREE Integrated marketing campaign is designed to get the word out and provide a special offer to make Father's Day just a little more special. No neckties needed when you are offering an attractive pair of sunglasses just in time for the summer months. Better yet, let's make them prescription sunglasses!
Use this campaign on your website, your Facebook page and as an eblast out to your patient base. Complete the form at right to download the entire campaign,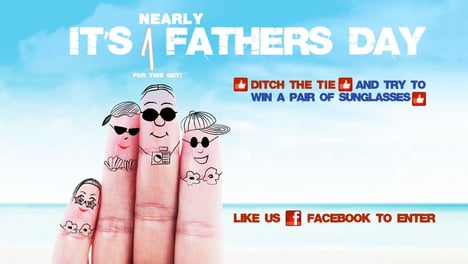 Aaaah, ya fadda's moustache! Better yet... turn this integrated marketing campaign into anything you like when you sign up for our ODLite, ODLingo or ODMetro service. Simply fill in the "Call me on" and "At" boxes in our form at right giving us a time and date we can meet with you and you may be well on your way to a lobby full of Dads.