Nothing Says Facebook Like an Involved Staff
Prairie Vision, Wainwright, Alberta, Canada
Likes: 735
Congratulations to our January Practice of the Month, Prairie Vision of Wainwright, Alberta in Canada for their Facebook prowess and expertise. January is Facebook Month and we wrap up an exciting month of creating optometric Facebook experts all across the US and Canada with a practice who has been just that for a long time.
What's their secret?
Staff involvement
Make it personal
Use different kinds of posts

This team must have read our Facebook posts ebook 2018 because they are engaging their entire community through Facebook. Wainwright, Alberta has 7,000 residents and this team has 10% of their community on their page! How many practice can report that. Check out their great posts:
Children make the best subjects.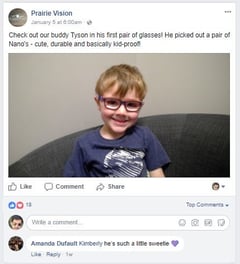 There is no better Facebook posts magnet than children. Now we all know the challenge of getting permission from patient for posting and having children on your page increases the concern significantly. Or does it?
This group shows time and time again that it need not be any more difficult. Have your permission forms ready. Always put your patients in a good light. And Voila! Their family is sharing your post with the entire neighborhood.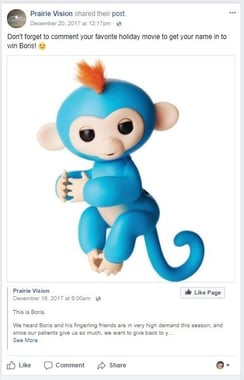 Have a contest!
The team did a great job of engaging their community in a holiday movie contest. "Comment and tell us your favorite holiday movie
and you will be entered in a random draw to win Boris! Winner will be chosen on Thursday evening." It's just that easy.
Recognize your staff.
Most practices don't recognize that their staff members are also community members. Each staff member has a family and friends that populate your community. In Wainwright, the Prairie Vision staff and their friends and families make up