From the mouths of babes...
There's a world of possibilities out there for your practice and pediatrics is one of the larger opportunities. But how best to launch a successful pediatric practice?
Our goal here is not to describe the clinical services provided, or the billing and coding of various treatments, instead, we are focused on how you tell the story of the availability, and quality, of the pediatric services you provide. It's not easy. There are big decisions to make. There is a culture to develop and in the end, a positive patient experience must be the result.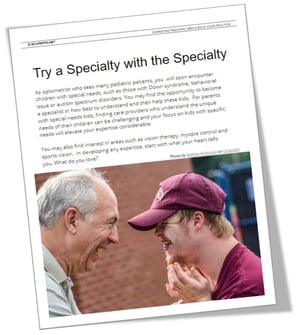 With your culture in place, stories develop and we can then assist you with telling those stories in your community. Our Pediatric Service marketing ebook is co-authored by one of our industries leadingf pediatric experts, Dr. Nate Bonilla-Warford, and if anyone is proof that our marketing recommendations work, it is Dr. Bonilla-Warford.
Look for ideas on
How to launch your pediatric services
connecting with other pediatric-oriented businesses in your area
using your staff to create a culture of pediatrics
using your pediatric business to drive your entire practice
Complete the form at right and download our free pediatric ebook, Marketing Pediatric Services In Your Practice. Better yet, complete the day and time and let's talk about letting EyeCarePro market your pediatric services so you can start getting results like Dr. Nate! We are happy to provide a free consultation and review your entire marketing effort. (Photo by Robert Collins on Unsplash)