Get the Online Reviews You

N

eed
...but you gotta ask...
We've been talking about reviews a lot lately. They have become a critical source of information, credentialing, marketing and search engine optimization. With the growth of mobile traffic, they are even easier to reach and read. As with many ideas in marketing, there is nothing too complicated, but you got to do it.
Complete the form on the right and download our Review Us campaign. It's completely modifiable and can be used any time this year. July is a great time to gear up your team to ask for reviews because back-to-school is right around the corner and that carries the patient volume for many new reviews for your practice and an opportunity to shine.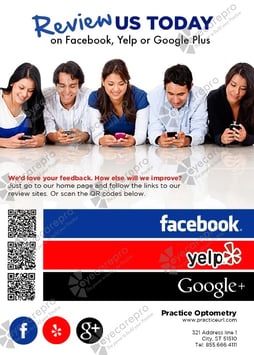 I hate to spill our well guarded secret, but plentiful, positive reviews come from asking. You know the patients who had a great experience, make sure you seize the day and ask them for a review. Better yet, use our materials to communicate that information the right way every time.
To Review or Not to Review! Better yet... turn this integrated marketing campaign into anything you like when you sign up for our ODLite, ODLingo or ODMetro service. Simply fill in the "Call me on" and "At" boxes in our form to the right giving us a time and date we can meet with you and you may be soon swimming in positive reviews about your practice.