It's Online Patient Reviews Week at EyeCarePro
...and you're invited!
Marketing is about focusing on one thing at a time and doing it well. Sure, you can multi-task, or tell several different stories simultaneously and guess what? Nothing happens. Try focusing on one marketing strategy, bring it to fruition and then build on a second.
This week we are focused on reviews (kind of an end of the quarter thing). Wow! How did reviews get so important so quickly. Seems like yesterday when we didn't pay much attention to that obscure and random review. Today, patient reviews have become a major source of information about the practice. Patients have learned to write reviews and prospective patients have learned to read them!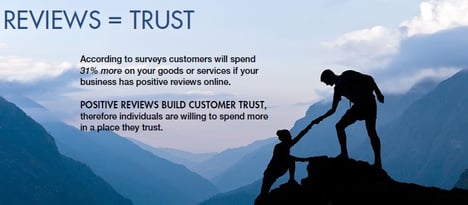 Simply download this easy to follow, step-by-step guide to better understand online reviews and how to make them happen at your practice.
Complete the form on the right and download your free ebook now!
Don't want to do it all yourself? Prefer practicing optometry over messing around online? Sign up for our ODLite, ODLingo or ODMetro service and our marketing team will ensure that your reviews are attracting new patients to your schedule each and every month. Give us a date and time on the form on the right and we'll call you for a 30 minute discussion on how we can put you on the eye care map in your community.