Videos are the New Photos Online
You've heard this before, but now it's time to put it into action.
Video marketing. YouTube. This wave is not coming, it has arrived. People watching TV shows on their phones while commuting to work. Online open house tours of homes for sale. Medical procedures explained simply.
It's not new but it may be new for you. Video marketing is a significantly more powerful means of telling your story, and frankly, this tactic requires a partner. There is writing, filming, editing and posting. Not impossible but challenging to say the least when going it alone.
Good news! EyeCarePro can assist you in several ways starting with creating your video marketing plan.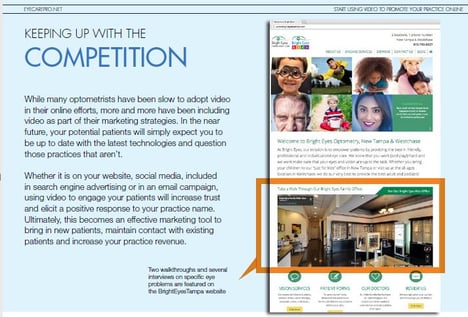 Simply download this easy to follow, step-by-step guide to planning and creating video marketing for your practice. Complete the form on the right and download your free ebook now!
Don't want to do it all yourself? Prefer practicing optometry over messing around behind the camera? Sign up for our ODLite, ODLingo, ODSpecialty or ODMetro service and our marketing team will ensure that you are attracting new patients to your schedule each and every month. Give us a date and time on the form on the right and we'll call you for a 30 minute discussion on how we can put you on the eye care map in your community.
Roll 'em!