There have been a lot of changes at Google the past couple of weeks. The change that is most immediately relevant for your optometry practice is the 3-pack.
Google 3-Packs
Until last week, the first page of Google's local search results displayed seven of the top local results along with a local area map with pins at the location of those results. This is called the 7-pack. This most recent change has turned those results into 3-packs.
What does this mean?
It means that any practices that were ranking D through G (#s 4-7) in the maps are no longer on the first page in the local maps search results. They may rank organically on the first page (under these results), but not in the Local section. If this is the case for your practice, you can expect a drop in organic traffic.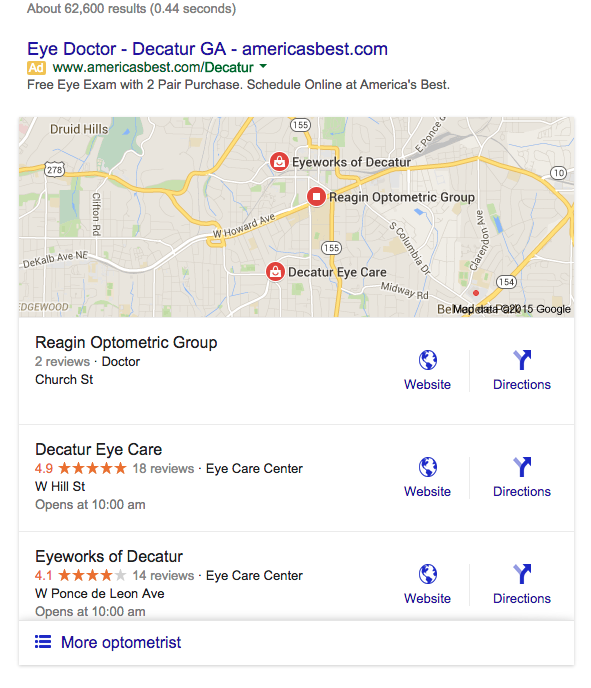 Business Information Changed
In addition to the fact that fewer practices will now be included in the prominent local maps section, the business information provided in the results has changed. In these 3-packs, exact business addresses and phone numbers have been removed (street names are listed) and store hours including opening and closing times have been added. For users to get the business addresses and phone number, they have to click through to the listing or the website to get this information. But to make that easier Google has added BACK direct links to the website within the business listing. Further, there is no longer an option to click over to the actual Google Plus page from the search results.
You can read more about the changes in this concise article from the SEM post listing the changes that are now live.
It's important to mention that Google has not confirmed whether these changes will be permanent. They have vaguely stated that they're constantly tweaking ways to improve user search experience. The 7-pack may return, or it may not, it's too soon to say whether this is the new way forward. In the meantime, it's even more important now as a local business to continue work to achieve top rankings.
If you have questions about these changes or how to get your practice website to place in the 3-pack, contact Daniel at Daniel@eyecarepro.net or phone(412) 532-6542.