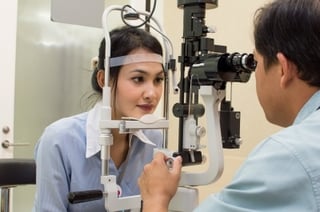 As we mentioned in our last post, when it comes to marketing your practice, there is no such thing as one size fits all. Effective new patient marketing needs to be based on your practice life cycle and unique practice growth needs.
Stage 1: Tactical Marketing - New patients, new patients, new patients!
Tactical marketing is optimal for a practice that is:
Less than 10 years old,

Has 1 doctor,

Has 1 location,

Generates less than $700,000 in revenue and

Operates in a small to medium sized market.
The focus of marketing a young practice is to leverage as much of the yearly calendar as possible to drive product and special appointment sales as the time of year warrants. This means you use seasonal opportunities such as Dry Eye Treatment Campaigns in the winter, Use It Or Lose It insurance campaigns in December, Sunglass Sales in the summer, Back-to-School Eye Exams in late summer, etc. to create campaigns to drive new patients and build your base.
Tactical marketing takes the following approach to establish and grow a young practice:
Website Design and Optimization: to create an appealing online office and positive first impression.

Search Engine Optimization: to bring patients searching on Google for your services.

Social Media: with a focus on getting likes and engagement to increase exposure.

Marketing Campaigns: using the channels above to attract and engage new patients.

Leverage current patient base: taking advantage of the existing patient base to get the word out.
Using these channels, the marketing experts at EyeCarePro have recognized the unique needs of the young practice and have developed ODLite - a marketing package designed specifically to cater to these strategic goals. But don't worry, if this profile doesn't fit your practice, we have a different package designed for your needs...stay tuned for our next digital tip that will describe stage 2 marketing for the more established practice.
Want to know which stage of marketing your practice falls into? We have it down and can easily assess which marketing strategy will have an impact on your bottom line. Contact Daniel by email at Daniel@eyecarepro.net or phone (412) 532-6542.