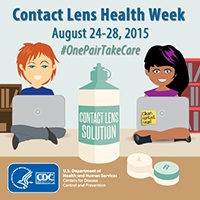 This August 24-28th, your Practice can take part in the second annual Contact Lens Health Week, organized by the CDC along with industry partners to spread awareness about safe contact lens wear and care. The CDC is encouraging all ECPs to share information and help educate the public by providing online and offline promotional resources to take advantage of various outreach platforms including social media, website banners, posters and other media.
This year's theme is Healthy Habits Mean Healthy Eyes and the messages cover three key areas:
Healthy contact lens hygiene habits

Proper use, care, and storage of contact lenses and supplies

Regular visits to an eye care provider
Contact Lens Health Weeks comes in time for back to school planning as one of the target audiences is teens heading back to the classroom - to reinforce proper lens care and how this can promote good vision and healthy eyes throughout the school year and throughout life. Much of the influence for healthy habits in teens who wear contacts comes from parents and eye care providers, so this is a perfect opportunity to get involved in having an influence on your patients' eye health education.
The CDC has provided a number of materials for practices to use in helping to promote awareness now and throughout the year including:
You can find out more about these free resources for eye care professionals here:
Information and tools to promote Contact Lens Health Week
Your practice can easily take advantage of this awareness event (even if you are located in Canada!). Visit the CDC website for more information.