We've been pressing the importance of mobile for some time now, but you don't have to take my word for it. In Google's own words, "The world's gone mobile. Now it's your turn." Many practice owners have received the email below from Google which includes a link to test your site for mobile friendliness and speed. Clearly it's time to get serious about mobile.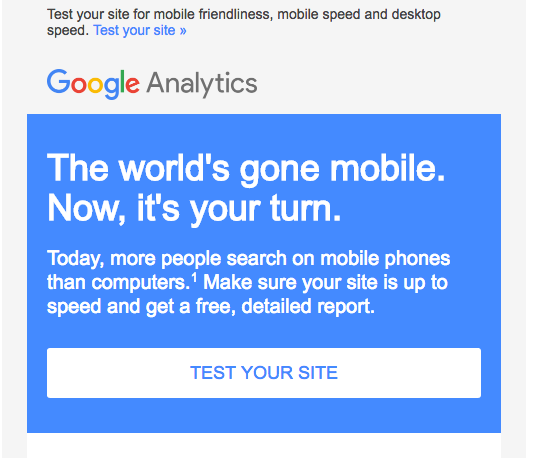 Understanding Your Mobile Readiness Score
Google ranks the mobile readiness of your site on three criteria - mobile friendliness, mobile speed and desktop speed and breaks each of these down into the key influencing components. Some of the fixes Google recommends are problems that might be in your hands to fix, while others will require work by your webmaster. Google recommends that you share your results with your webmaster in order to make many of the technical fixes.
We tested a bunch of sites and have identified some common reasons for bad scores. Here are some explanations of some of the reasons your site might be failing and some fixes to improve your mobile readiness score.
Mobile Friendliness:
Legible font sizes: The default font size needs to be large enough for mobile viewers to see clearly on a smaller screen. This is an easy fix - if you aren't able to change the font size yourself, ask your webmaster.
Configure the viewport/Size content to viewport: What's a VIEWPORT? The viewport controls how the site will be displayed on mobile, for example how the content will scale when sized down to a phone or mobile device. The visitor should never have to scroll horizontally to view any content. Google has a suggested viewport meta tag - which is something that you should speak to your webmaster about.
Avoid app install interstitials that hide content: I

nterstitials are overlays that pop up when you arrive at a site that partially or completely block the content of the page the user is trying to visit. They are bad for the mobile user experience. Make sure such pop-ups do not display for mobile users.
Avoid plugins:

Plugins allow websites to be able to show certain media or connect to other applications such as social media. Avoid using these as they can slow down your site and create a bad user experience.
Size tap targets appropriately: This means that the text for your links should be big enough for someone to press it with their finger - the words should be long enough and font big enough for easy use.
Mobile and Desktop Speed:
Reduce server response time:

This is an issue that is in the hands of your webmaster.
Optimize images: If you have provided images for your website you want to make sure they aren't too big. When you take a photo, there are various levels of JPG quality you can compress it to and while 100% quality on a photo won't look much different than 60%, it is a much larger photo and will take longer to download. Apps like Photoshop can reduce the file size by increasing the compression. If you get this warning from Google and your photos are already compressed, you may need to ask your webmaster to compress the images further.
Prioritize visible content: Due to the small screen size you want to limit images and put the most important content first. Get to the point quickly so users can find what they are looking for at first glance.
The majority of the other criteria Google examines are highly technical and can be passed on directly to your webmaster to fix. As mobile continues to increase in importance, a qualified webmaster should already be aware of these issues and know how to fix them.
Got questions about your score or need help improving your mobile readiness? Contact me Daniel at daniel@eyecarepro.net or phone (412) 532-6542.