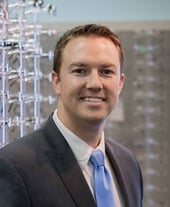 Dr. Josiah Young of Opticare Vision Centers in the greater Cincinnati area was only doing his job when he discovered that 10-month old Piper Sinclair had hyperopia and fit her with corrective eyewear. Piper had been failing to reach milestones such as crawling and her pediatrician referred her for a comprehensive eye exam. What happened next, however, was truly sensational.
Piper's mother, Jessica filmed a moving video of the moment Piper put on her glasses and saw her parents for the first time. She posted the video to her Facebook page and included the caption, "I just wanted to say thank you to Dr. Josiah Young and the Opticare team for this reaction. So happy for my daughter and this amazing practice. Thank you!" Since then the video has gone viral with over 34 MILLION hits (and counting) as well as features on the
local
and national news, including a segment on CNN. According to the AOA, in less than 36 hours following the CNN segment, the story was circulated by more than 400 media outlets with about 100 nationwide featuring InfantSEE mentions.
So moved by the incredible and instant reaction shown by her daughter at being given the gift of sight, Jessica's hope is that the video's success will raise awareness about the importance of getting infants' eyes checked. Further, Jessica has been very vocal about her gratitude for Dr. Young and his staff who are getting a lot of publicity from the whole story. Not only is Dr. Young's name and the Practice information being mentioned everywhere but they are also getting links to Opticare Vision Centers' website and Facebook page.
How has Opticare Vision Centers responded to the publicity?
They are running with it! Dr. Young is an ODLingo customer of ours and we have been working with him to make the most of this publicity by leveraging his online assets. If you visit his website now you will instantly see a pop up interstitial with the actual video of Piper seeing clearly for the first time. Additionally, there have been two articles written and linked to his homepage that appear on the news page on the site. The first post shows the video along with information about the importance of infant eye exams and links to 10 news stories on local and national news outlets!! The second, The Story Behind the Piper Video, is an interview of Dr. Young which details the medical side of the story and again emphasizes the importance of proper and early children's eye exams.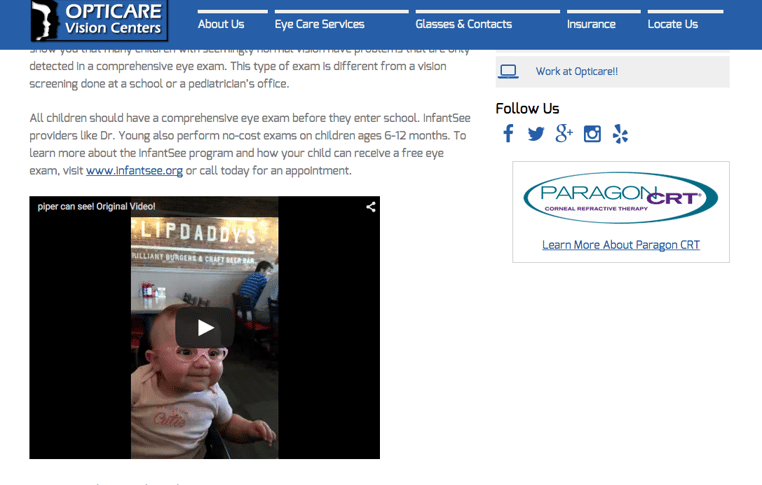 Dr. Young uses the publicity to educate parents about the InfantSEE program, which he is a part of and emphasizes that parents should take advantage of the program and schedule an appointment at their local practice.
The Practice has also spread the word on their Facebook Page, updating it with links to all of the articles and news broadcasts related to the video, including local news interviews with Dr. Young himself. Who knows where things will go from here? Surely with this type of instant fame, Dr. Young can easily reach out to local or national news outlets for additional interviews and expert educational segments or lectures (if they don't contact him first).
The Takeaway Message for Your Practice
This story has very successfully raised nationwide awareness about infant and child eye exams and InfantSEE. Every optometrist can benefit from this type of publicity by sharing the story and reaching out to their local community and media about the importance of children's eye care.
Furthermore, while not every Practice is going to have a patient post a viral video about their experiences, here are some ways to spread news about your Practice:
Keep an eye out for newsworthy stories, and when a patient is willing, share them.

Encourage your patients to interact with your Practice on social media and with digital media such as photos and videos.

Publish press releases and reach out to local news sources.

Get involved in the community to create opportunities for publicity.
As an optometrist you often encounter small miracles and inspiring stories, so the goal here is to capture those stories and share them with the community around you. You never know when something will touch some heartstrings and take the media by storm...