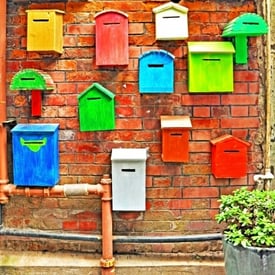 Looking for a unique and effective way to reach your audience? With all of the focus being on digital these days, most business owners are overlooking one of the most powerful forms of marketing out there - good, old-fashioned snail mail.
Direct Mail or Response Mail Marketing is an incredibly effective form of marketing with an exceptional return on investment. Practices receive a response rate between .5% and 1% of all mailings and the more they do, the higher the return.
Response Mail Marketing may cost more than some alternatives (such as social media) but the rewards are measureable and the results are profitable. Here are some reasons it's worth your while to invest a little extra into direct mail marketing:
Higher Recipient Rate: With direct mail, the chances of your audience receiving, opening and seeing your promotional material is much higher than other forms of marketing. No gmail filters, no Facebook algorithms. That's why it's call "direct".

Less Crowded: As opposed to the digital mailbox which is becoming more and more inundated, there are fewer marketers out there vying for direct mailbox attention. Patients may even appreciate a little envelope in their mailbox purely for the novelty of it.

Hyper Targeted: With direct mail you can truly target potential patients in your local vicinity by neighborhood and zip code.
This is not to say that you should abandon all forms of digital marketing for your optometry Practice, not in the least. But rather, that incorporating direct mail marketing into a cohesive and integrated message across all channels will greatly enhance your reach and the effectiveness of any campaign.
Not only does EyeCarePro include direct mail marketing campaigns in our integrated marketing services for a huge discount compared to what you would pay on your own, but for a limited time we are offering to increase your reach by 10% on your first Response Mail Marketing Campaign. Click here for more information.